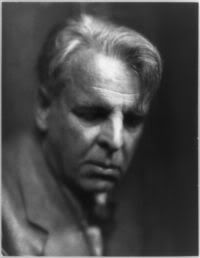 William Butler Yeats
William Butler Yeats was born in Dublin, Ireland in the year 1865. Yeats began writing poetry during his years at Erasmus Smith High School around 1881, and had his first poems publish in 1865 in the Dublin University Review. Yeats' style has been commonly associated with the Romantic movement and the Gaelic Revival. Early in his career as a poet, his chief influences were William Blake and Percy Bysshe Shelley. His style was heavy on the incorporation of mysticism and old folklore. As well as being known as a poet, Yeats was also well known as a playwright and essayist, and helped to found Dublin's Abbey Theatre, as well as the Irish National Theatre Society.
Yeats' poems seem to draw mainly on his love for the land of Ireland, as well as his romantic yearning for days gone by. He writes frequently of faded beauty and the effects of age. Yeats was also a fervent Irish nationalist, which is reflected in much of his work as well.
"William Butler Yeats - Biography and Works." The Literature Network. 8 May 2007 <http://www.online-literature.com/yeats/>.
The Lake Isle of Innisfree (1893)
I will arise and go now, and go to Innisfree,

And a small cabin build there, of clay and wattles made:

Nine bean-rows will I have there, a have for the honey-bee,

And live alone in the bee-loud glade.

And I shall have some peace there, as peace comes dropping slow,

Dropping from the veils of the morning to where the cricket sings;

And midnight's all a glimmer, and noon a purple glow,

And evening full of the linnet's wings.

I will arise and go now, for always night and day

I hear lake water lapping with low sounds by the shore;

While I stand on the roadway, or on the pavements gray,

I hear it in the deep heart's core.
In this poem, Yeats reveals his desire for a simpler kind of life than the one he leads. He wishes to leave wherever it is he's at, and go to the lake isle of Innisfree. When he arrives there, he wishes to lead a simple kind of life in the woods, immersed in his surroundings and in the peace of nature. In contrast he feels trapped by the city, and it's "pavements gray", and by the roadways of the metropolis in which he resides. In spite of all this, he can still hear the sound of the water on the lake calling to him.
This poem was written by Yeats when he was living in London in the 1890s. Surely London in the 1890s was not a very serene place, and so Yeats wanted to write about someplace better, where he wished he was. He also describes a rural lifestyle that was probably much simpler than the sort of lifestyle one would live in London. Though he understands the reality of where he is, he can feel it in his "deep heart's core" that he wishes he were someplace else. Someplace simple and peaceful.
"William Butler Yeats." Poetry Archive. 8 May 2007 <http://www.poetryarchive.org/poetryarchive/singlePoet.do?poetId=1688>.
"Yeats's Poetry: "The Lake Isle of Innisfree"." Sparknotes. 8 May 2007 <http://www.sparknotes.com/poetry/yeats/section1.html>.
Sailing to Byzantium (1928)
That is no country for old men. The young

In one another's arms, birds in the trees

- Those dying generations - at their song,

The salmon-falls, the mackerel-crowded seas,

Fish, flesh, or fowl, commend all summer long

Whatever is begotten, born, and dies.

Caught in that sensual music all neglect

Monuments of unageing intellect.

An aged man is but a paltry thing,

A tattered coat upon a stick, unless

Soul clap its hands and sing, and louder sing

For every tatter in its mortal dress,

Nor is there singing school but studying

Monuments of its own magnificence;

And therefore I have sailed the seas and come

To the holy city of Byzantium.

O sages standing in God's holy fire

As in the gold mosaic of a wall,

Come from the holy fire, perne in a gyre,

And be the singing-masters of my soul.

Consume my heart away; sick with desire

And fastened to a dying animal

It knows not what it is; and gather me

Into the artifice of eternity.

Once out of nature I shall never take

My bodily form from any natural thing,

But such a form as Grecian goldsmiths make

Of hammered gold and gold enamelling

To keep a drowsy Emperor awake;

Or set upon a golden bough to sing

To lords and ladies of Byzantium

Of what is past, or passing, or to come.
Much like The Lake Isle of Innisfree this poem begins by describing a beautiful natural world. This world however, is a world of youth, not of "old men." He describes the carelessness of youth, that their world nothing but "sensual music" and "neglect", which ignores the more important things in life. Those "monuments of unageing intellect."
Yeats goes on to describe the frailty of old age, describing an aged man as a "paltry thing." That is, unless one focuses on the enrichment of his soul, if his soul will "clap its hands and sing" and rejoice in the life that has been lead. This can be learned if one goes to the city of Byzantium. The poem becomes a first person narrative at this point. The narrator arrives before the "sages standing in God's holy fire" to seek the healing of his soul, which has become "sick with desire." He wishes for them to take him into "eternity."
In the final stanza, the narrator describes a life he would rather lead. In contrast to his earlier works, such as The Lake Isle of Innisfree, Yeats' narrator indicates that he wishes to live apart from his body and "any natural thing." He wishes to take on an artificial form, to become a beautiful golden machine. He wishes to serve a single minded purpose, to be away from the distractions of youth and nature.
This poem conveys a distinctly different theme than The Lake Isle of Innisfree, It was also written more than thirty years later. Rather than seeking out a carefree existence in the wilderness, in this poem Yeats conveys a desire to live a life devoted to the cultivation and perfection of the soul. He sees the natural world, the world of his youth, as a distraction to be shed. He wishes to live in a pure, golden city, where he can serve some kind of specific purpose. He wishes for the perfection of a craftsman, as opposed to the organized chaos of nature.
"Yeats's Poetry: "Sailing to Byzantium." Sparknotes. 8 May 2007 <http://www.sparknotes.com/poetry/yeats/section6.rhtml>.
"Sailing to Byzantium, William Butler Yeats Criticism and Essays." Enotes.com. 8 May 2007 <http://www.enotes.com/poetry-criticism/sailing-byzantium-william-butler-yeats>.
"Sailing to Byzantium, William Butler Yeats Criticism and Essays." Wikipedia. 8 May 2007 <http://en.wikipedia.org/wiki/Sailing_to_Byzantium>.